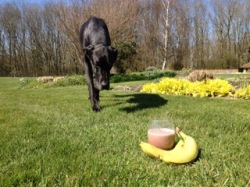 24 April 2013
The Sun not proving quite enough incentive to kick start your fitness regime? Well The MOOSE has a delicious post exercise recipe tip that is definitely enough incentive to get us moving!
Do you ever find yourself using incentives to get yourself to work-out. I can't tell you how many times I have managed to drag my-very reluctant-self to the gym by a much over-used lie. It is a familiar story, I tell myself all I will have to do is a few minutes jogging on the treadmill, maybe attempt (and fail) a press-up or two, read some of my new favorite book on the cross-trainer, I won't even break have to break a sweat. I lure myself over to that playground of physical delights with the faithful promise that after a relaxing, half-hearted workout I can have a complete spoiling session in a spa. I start to imagine lounging in the sauna, soaking my tired body in the Jacuzzi, and maybe even treating myself to a glass of red wine afterwards; everything my exhausted-post-work-self thinks it is craving. It always works. But more often that not I end up having an awesome workout and once I'm energized, sweating and completely pumped up by my exercise I skip the pampering altogether, replace the wine with juice and head off for a productive, fun and energetic evening! It's a subconscious tactic, it's an over used lie, but it works and I know I am going to keep fibbing my own psyche.
We have recently heard, however, of another incentive that is actually not a lie at all. A post work-out treat that is essential to maximizing the effects of that grueling conditioning. Chocolate Milk. Studies have shown that it can be just as if not more effective then recovery drinks. It contains the carbohydrates, protein and sugars that your body needs to replenish itself after exercise. Furthermore the potassium, calcium and vitamin D are excellent for your body whether you have been active or not.
Recovery drinks are often over-priced and the taste isn't that much of an incentive to get you moving! Chocolate milk is cheap, delicious and the best bit is that it is exactly what your body needs straight after exercise.